Border Control Bird Dogs are now pleased to be able to offer a full range of tried and tested Goose control products.
Goose Control Products for Sale or Hire. Call for Pricing on our Geese management equipment
These geese control products are now available to our customers offered with our full back-up and advise on best practices to make your new goose control product the most effective tool it can be.


 Launchers available in single or double shot
Fires multitude of pyrotechnics to scare geese including Bird Bangers, Crackers, Screamers. Blanks and pyrotechnics available.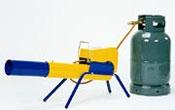 Propane Cannon ZON Mark IV Bird Scare Cannon
Standard Mechanical Model  Features: • Detonation intervals adjustable from 40 seconds to 30 minutes  • Low gas consumption – 20 lb. propane tank delivers approximately  17,000 explosions  • Operates in strong wind conditions  • Stable frame design prevents movement when detonating.
Scare tape is an extremely reflective  material in sunlight. This tape has a hologram effect that resembles  eyes and when hung in short segments can agitate geese & birds
MOVING EYE Inflatable predator frightens geese & birds